Attracting birds to the garden  is essential to plant reproduction and keeping bugs at bay.  Nature depends on birds to balance the ecosystem which ultimately affects us humans.  

They help pollinate flowers, provide natural pest control, and help decrease unwanted weeds in our gardens. Regardless of size and location, attracting birds isn't hard.  With just a few habitat updates, you can turn your garden into a bird's paradise. The more diverse your garden, the more birds it will attract.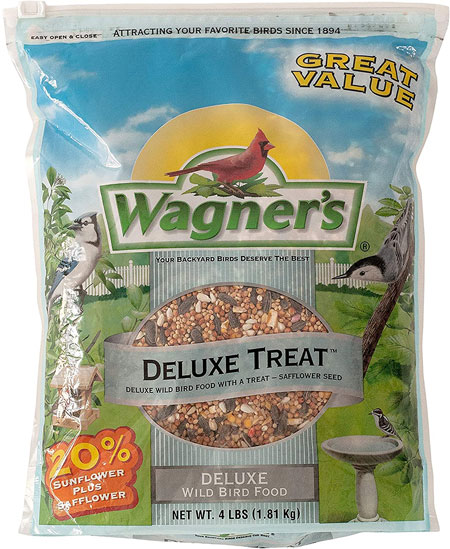 Birds are Professional Pollinators
Birds make a huge contribution as pollinators.  They directly affect humans because they pollinate about five percent of the plants we use for food and medicine.  
Birds travel many miles every day searching for food, and that causes them to spread seeds everywhere they go.  If you master the art of attracting birds to the garden, they will keep it flourishing.  
They could possibly introduce new flowers that will flourish requiring no extra work from you.
It doesn't matter if your garden is full of fragrant flowers.  Birds are attracted to flowers by sight, not smell.  
Different species of birds are attracted to certain flowers and plants. They respond quickly to environmental changes and are constantly searching for the perfect place to call home.
By planting the right visually-pleasing flowers, you should have birds aplenty in no time.
 More blooms mean more birds – and butterflies, lady bugs, and bumblebees.  With butterflies and bumblebee numbers in a critical decline, adding a variety of plants to your garden will give them a chance to increase.  
More birds in the garden means more flowers.  More flowers means, well, more birds!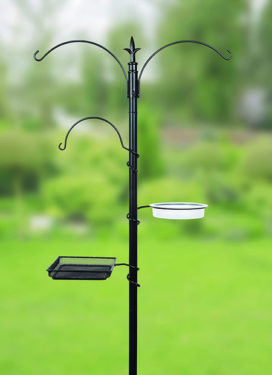 Create feeding stations
You'll need to create multiple feeding stations filled with wild bird food located throughout the garden.  You should have several types of feeders for small, medium, and large types of seeds. 
Finding food is the main priority for any species to survive, so having food readily available is important to attracting birds to gardens. 
But not all birds eat the same way. Platform feeders are good for ground-feeding birds, suet feeders attract insect-loving birds, while others prefer to perch on hanging feeders. 
Keep your feeders filled with wild bird food all year round.  Birds are territorial and will stake their claim on your feeder.  
They make daily food runs, but if their food source is empty, they will move on to another area.  If they can't rely on your feeder to be regularly full, they'll go elsewhere.
Birds love bugs
 Birds love bugs and seeds.  Attracting birds to the garden can be a means of natural pest control.  Mosquitos, spiders, aphids, and other bugs make for a healthy snack.  Cardinals and thrushes, for example, love feasting on snails and beetles.  
Sparrows prefer cutworms and caterpillars. Are your roses being attacked by some nefarious bugs?  Invite some Orioles into your garden and they'll make quick work of the caterpillars, beetles, and larvae that destroy roses gardens.
 Say no to weeds by adding birds
Weeds are everywhere but they need not be.  Sparrows, finches, and towhees love to eat the seeds of weeds before they sprout.  No seeds means no weeds.  That means you spend less time pulling weeds and less money spent on weed killer.
Leave your garden slightly untidy, and the birds will love it. Don't clean up the dead seed heads of your flowers. Let the birds do it. Redpolls and goldfinches will pick the dead seeds off for a nutritious meal.  Less mess for you to clean up.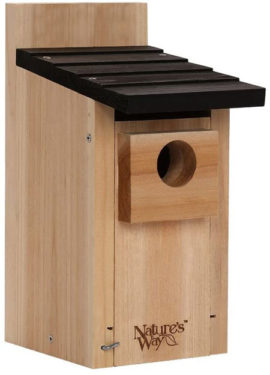 Design a bird-friendly garden
To invite birds in the garden, you must recreate their native habitat on a smaller scale.  Birds live in layers of foliage. 
Each layer serves a purpose.  Ground cover, mid-level shrubs, medium size trees, and taller trees for canopies form a natural bird paradise.  Birds perch on the highest trees to sing and catch a mate. 
They use the mid-level trees and shrubs to build their nests away from ground predators and hide from air predators. 
They use the lower shrubs and ground cover to scratch out worms and insects.
Another way of attracting birds is to add plants with nutritional values all year.  Since birds love seeds, plant wild flowers.  Birds will go after the seeds and help pollinate simultaneously. 
They need energy to care for their babies so plant sweet fruits like blackberries, wild cherries, and mulberries.  In the fall, they need to increase their fat reserves with dogwood and maple leaf viburnum. 
Wintering birds need to combat freezing temperatures and love bayberry, crabapples, and hawthorns. 
Every garden should have at least one clump of conifers. Birds use this evergreen as shelter during winter storms.
It's an easy way to attract birds to the garden since it offers great protection from harsher weather when they need to nest or sleep.
Don't remove dead trees
Strangely enough, adding a couple dead tree branches is a good idea to keep birds in the garden.  They enjoy roosting on dead branches and use them as perches.  They enjoy using the branches to sing their unique song to mark their territory.
Bluebirds and woodpeckers seek out old hollow trees in which to make their nests. Chickadees and nuthatches search decaying trees for the multitude of insects that reside around it. The more native bugs, the better.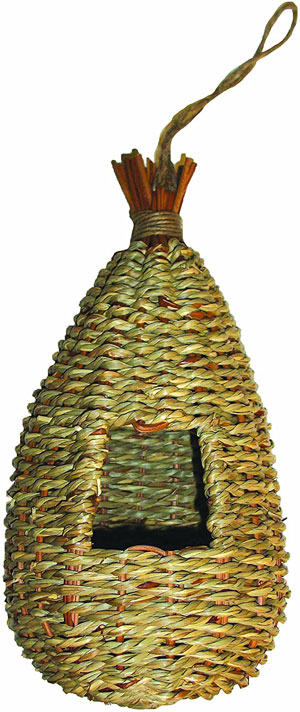 Birds of a feather flock together
Like us, birds want a safe environment to create a home and raise their little ones.  As humans encroach on their natural habitat, wild birds have fewer places to call home. 
A few strategically placed nesting boxes is like a blinking "Vacancy" sign to birds looking to start a family. 
Large shrubs and a few trees provide ample nesting materials to keep bird families warm, dry, and protected from predators.
Evergreen trees are perfect for offering year round homes and protection.
Woodpeckers, bluebirds, and purple martins are running out of natural habitats due to humans eradicating their natural environment.  Sharing your garden with them will help to give them a bit of a safe haven.  
 Different birds enjoy different types of housing. Some enjoy close quarters like a bird house while others prefer an open penthouse with a view from the highest tree branch. 
Create a diverse garden with a variety of  colorful native foliage. 
Having food and shelter available at multiple levels offers a plethora of living options. 
Shrubs, small trees, large trees, and ground cover create the perfect neighborhood for attracting birds of all species.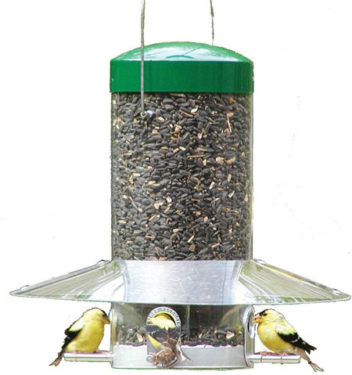 Build a better bird shelter
Functional nesting boxes provide the perfect home our feathered friends who enjoy roosting in the winter.
They are built for families and have multiple roosting pegs inside.  They have ventilation gaps to circulate fresh air and a drainage hole on the bottom. 
If you have other outdoor critters in your garden like squirrels or cats, make sure your bird homes have a predator guard around the entrance hole.
Babies stay safe, and predators can't come in. 
Roosting boxes are designed to prevent the escape of body heat so there are fewer ventilation gaps. 
It's a communal resting spot that provides secure shelter from predators and harsh winter temperatures. 
It has multiple perches inside that invites a slew of birds to stop by and share their body heat. Woodpeckers, chickadees, titmice, and wrens are known to frequent roosting boxes. 
Smaller birds will also flock to these as an emergency shelter in extreme weather.
Water All Year Long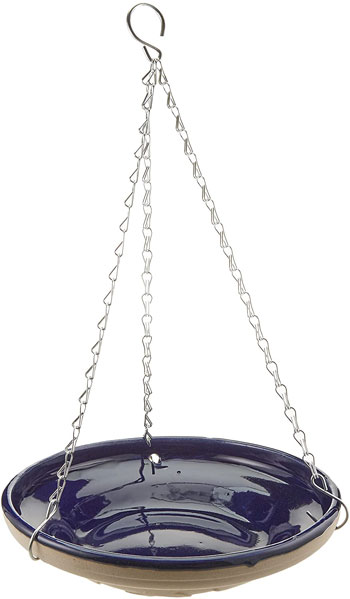 All living things require water.   Seeds are dry food so birds need plenty of water to wash it down.  The sound of moving water is a perfect tool for attracting birds to gardens. 
Something as simple as an overturned saucer and a slow dripping hose can give a thirsty bird a cool reprieve.
Birds have superb hearing and can detect moving water from long distances away.  A small waterfall or a bird bath with a circulating pump creates enough noise to invite wild birds to swing by for a drink and maybe a bath.  
The movement of other birds splashing and preening will catch their eye and draw them in.  
Baths with a rough surface gives some traction to make splashing fun yet safe.  To provide a larger attraction, install a pond. Having a larger water source can attract songbirds, ducks, wading birds, and other types of waterfowl. 
A cool drink or bath in the summer if great, but what about in the cold months? It takes a lot of energy to warm up snow for drinking.  You can add an immersible heater to an existing bird bath or pond to create an instant hot tub.  
Winter birds will be attracted to the warm body of water even if they're not interested in your feeders.  They may just want a place to wash their feathers and warm up.  
Baths with darker basins absorb sunlight and use less electricity, and they're visible against the snow which makes them easier to spot.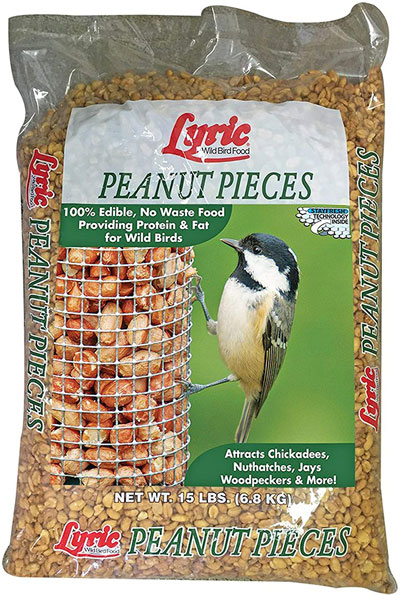 Leave some leaves
Ground-feeding birds feast on worms, beetles, and other creepy crawlers. 
Give them a hand by raking dead leaves under the hedges or under some trees that offer dense shade.
A nice six-inch bed of leaves will eventually decompose to create the perfect smorgasbord of earthworms and juicy bugs the birds will love. 
Add some vines or creeping foliage. Birds use greenbrier, Virginia creeper, and even poison ivy as perches and nesting areas. 
Insect like caterpillars provide food for the insect-eating birds, while fruit-producing vines provide months of food for over 50 species of birds. 
Vines also provide a stringy type of bark that birds utilize to build their nests.
Predators are everywhere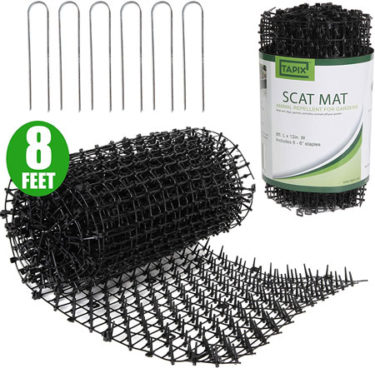 Birds natural predators are cats. While it's not ideal to have prey and predator sharing common ground, it is possible.  Position feeders and birdhouses out of reach of cats. Hang them on tall poles with baffles.
Cats don't care for the scents of citrus, mint, cinnamon, vinegar, and pepper.
Put your feeders in the midst of these plants to deter the cats from snatching an unsuspecting bird.
You can protect visiting birds from other wildlife that may sneak into your garden by using scat mats. 
They're strips of plastic with pointy spikes that make walking on them uncomfortable.
Lay them on the ground anywhere you don't want critters to venture. They can also be wrapped around the bird feeder pole to discourage climbing.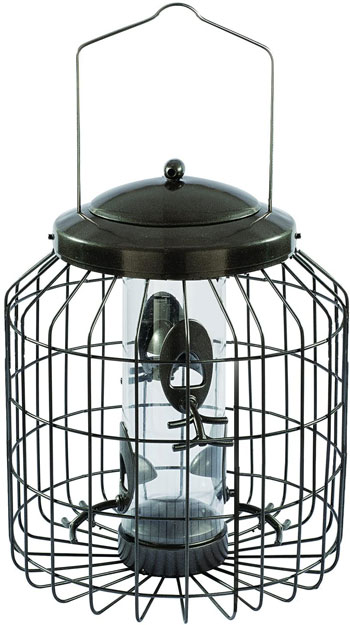 Attracting Birds to the Garden – Things to avoid
It's best to know the types of birds you're trying to attract.  Don't buy low quality wild bird food that consists mostly of shells and fillers.  Buy bird food that is nutritious and eye-catching. 
Sunflower seeds are enjoyed by many varieties of birds, it's relatively inexpensive, and easy to find at most stores.  Safflower seeds and Nyjer (thistle) attract cardinals, goldfinches, and chickadees.
Try to avoid pesticides as much as possible. 
The less bugs you have in your garden, the less food available for the birds.  Insects exposed to pesticides can kill the birds and other wildlife who feast on them.
Stop beautifying your garden.  Don't fertilize it, and don't mow it as often.  Fertilizer is often compounded of chemicals that are toxic to birds. 
Instead, plant native species of plants and let the birds (and butterflies and bees) come to the buffet! They will pollinate your garden so you don't have to.
Never use desiccated coconut as wild bird food.  It swells up in the birds' stomach and can be deadly.  Use real bird seed and not left over baked goods like cookies and breads. The sugar coats the beaks and can solidify.
Attracting birds to gardens Conclusion
Attracting birds to the garden of any size isn't as hard as it sounds.  Most living creatures require food, water, shelter, and a place to raise their babies.  A few bushes, a nesting box, a roosting box, and some bugs are really all you need. 
A steady supply of these staples can transform your garden from a place where birds only visit into a permanent home for them and their families. Provide these essentials, and you'll be attracting birds to the garden – and keeping them – in your garden all year.
Article by our US correspondant Laura Lee Hathaway
Buying Bulk Bird Seed and Peanuts can Save You A Fortune more….