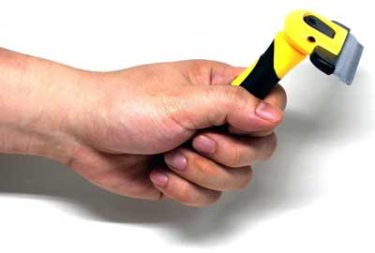 Mounds of unwanted pet hair in you home can be one of the biggest pains for dog-owners. Here are 5 Best Deshedding Tools For Dogs with high Amazon ratings and plenty of Amazon customer reviews to help you decide which one is best for your pooch.
Thunderpaws Best Professional De-Shedding Tool Pet Grooming Brush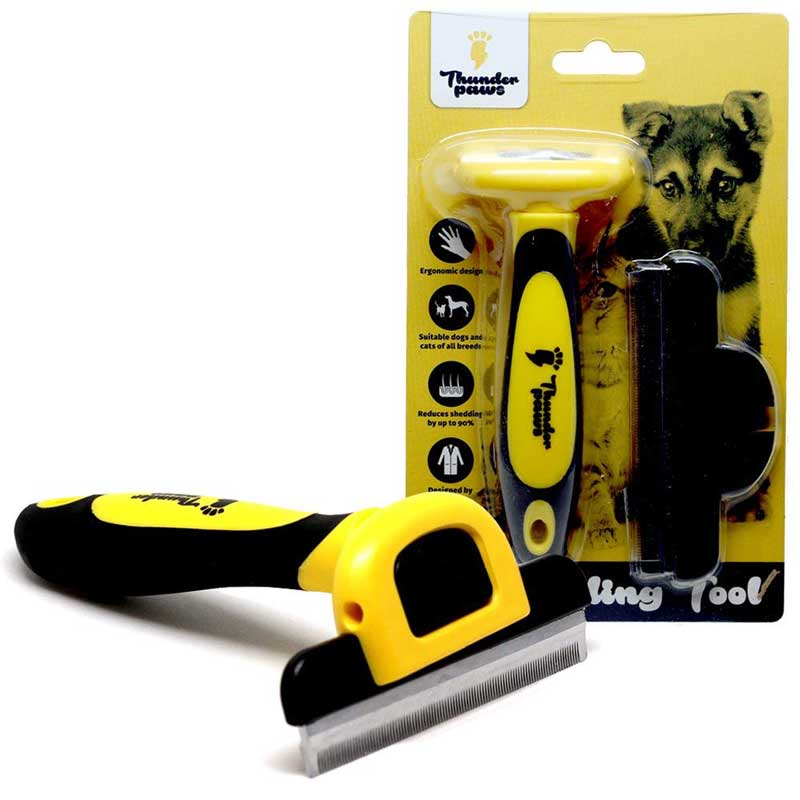 High quality descending tool with a 4 inch stainless steel comb fitted with non slip ergonomically designed rubber handles. Will remove up to 95% of your dog or cats top coat without damaging the hair.
The tool is fitted with an eyelet for easy storage and has an easy to operate quick release to detach and refit new blades.
5 Star Amazon Star rating with almost 500 customer reviews

DakPets Deshedding Brush-Dog Hair & Cat Hair Shedding Tool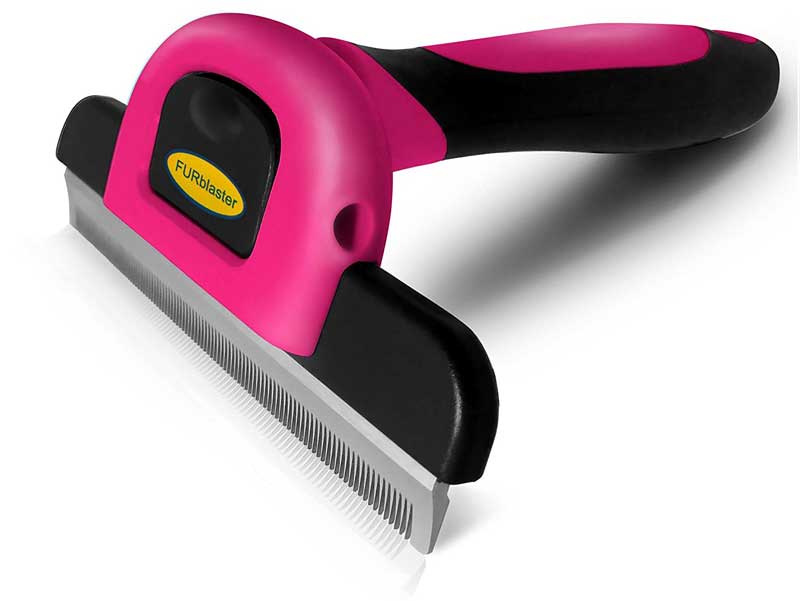 High quality dog and cat hair removal fitted with a stainless steel 4 inch blade that is supplied with a protective cover.
This deshedder tool comes with a non slip handle and durable Stem handle and comes in 3 different colours blue, pink and yellow.
A quick and effective way to remove loose hair from the undercoat and providing a top hair brush to maintain you pets shine!
4.5 Amazon Star Rating with over 10,000 customer reviews.

GoPets Dematting Comb with 2 Sided Professional Grooming Rake
This tool offers a double sided comb provided with a different number of teeth on each side.
For stubborn matting and tangled hair the low teeth side is used for tackling any demoting issues.
On the reverse side there are more teeth specifically designed to remove tangles and deshed resulting in thinning out the undercoat to control shedding.
Amazon 4.5 Star Rating with over 2,500 customer reviews

SleekEZ Original Deshedding Grooming Tool
Up to 95% loose har removal during descending this patented design with wave pattern blade comes in 3 sizes – 2.5 inch, 5 inch and 10 inch to cover all pet sizes.
Works on all pet hair apart from those with long hair.
Also effective for removing your pets hair from furniture, carpets, bedding and vehicle seats and mats. Made in the USA
Amazon 4.5 Star Rating with over 3,500 customer reviews

Furminator deShedding Tool for Dogs – Short, Medium or Long Hair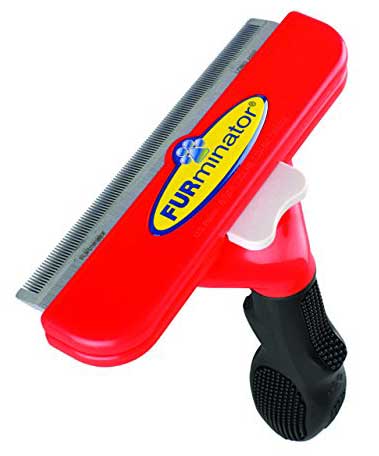 Stainless steel blade fitted with a FURrejector button release to remove fur easily from the tool.
Ergonamic handle makes this comfortable in hand.
The Furminator brand offers considerable options depending on the size of you dog and hair length. There are Deshedding tools for extra small, small, medium, large and Giant dogs with the added option of long and short hair.
This is a very popular descending tool with over 13,000 Amazon customer reviews
Amazon 4.5 Star Rating with over 13,000 customer reviews

Advice on the benefits – Best Deshedding Tools For Dogs