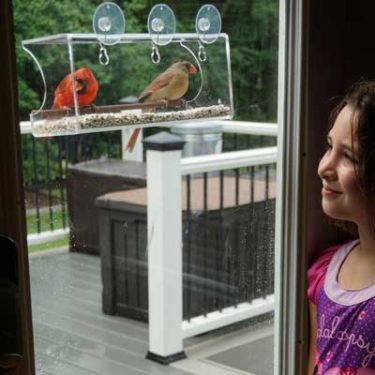 There's no need to trample through the woods to catch a glimpse of your favorite winged friends. A window bird feeder brings the birds to you. Watching them feed, rest, or snuggle with their mates can be done from the comfort of your home. How often can you get this close to nature without disturbing it?
Let the kids get a firsthand look at how wildlife thrives. Give one as a gift to your grandparents. Or keep one for yourself. Enjoy having a cup of morning coffee while watching a few cardinals and songbirds just inches away.
Large Window Bird Feeder by Nature's Hangout
Designed of transparent acrylic, you'll have an amazing view of a bird's life. No installation required or hardware needed.
Three heavy duty suction cups attach it to any glass window. A clear removable divider on the inside divides the bottom in half for different types of seeds.
Sixty drain holes populate the tray to keep seeds dry and mold free. They measure 3mm each – big enough to drain out the water, but small enough so seeds don't pass through.
It's able to hold two cups of your choice of birdseed. The removable bottom tray slides out for easy cleaning.
Birds will make this their new feeding ground since it's designed with a padded grip they can perch upon.
The top cover offers shelter from rain and snow as they eat. It's even durable enough to withstand squirrels jumping on it.
Get the latest price on Amazon here…
Large Window Feeder
Give the cat a new set of friends he can watch for hours. Stick the three all-weather suction cups to the window. Attach the feeder to the hangers on the cups. Fill up with some seeds and watch the fun begin.
Multiple birds can feed at once thanks to the rubber tray perch that offers a comfy grip. The rubber provides extra friction to help them get a firmer grip in icy weather. Let the kids learn positive lessons about nature while having fun.
As finches, cardinals, and doves stop by for a snack, the kids can practice identifying them. Weather won't hinder them from saying hello. The resistant cover overhangs enough to protect them from rain and snow.
Adding this transparent bird feeder to any glass window brings amazing wildlife into your house.
It's definitely on the large side so it's optimal if you attach it to a large unobstructed window.
See the latest price on Amazon here…
KOVOT Acrylic Window Feeder
A bit on the smaller side, this is a perfect way to bring the outdoors inside to an apartment or small house. Smaller birds can enjoy a nice meal without worrying about the larger birds chasing them away.
The transparent acrylic is lightweight but just as strong as a larger one. The transparency gives a nice minimalistic feel while allowing for an amazing intimate view.
Three powerful suction cups keep it stuck to the window and can hold it year round. The feed tray is removable for cleaning. There's no need to take it off the window to clean it. Drainage holes on the bottom of the tray keep the feed dry and clean.
Since the open side of the feeder faces away from the window, no bird mess drips on the house walls. Bluejays and cardinals will be repeat customers to this little snack shack.
So sit back and enjoy watching them in their natural habitat.
See the latest price on Amazon here…
Large Window Feeder by Homono
Watch your children's faces light up when they open the blinds and see a family of birds having breakfast.
The see-through feeder is like having new friends stop by every day. The larger size easily holds three birds at a time side by side.
The ultra-secure suction cups hold it firmly in place all year. The seeds stay dry with the help of multiple drainage holes in the bottom of the feed tray.
A comfortable rubber grip pads the sharp edges of the perch to invite more birds to stop by. The overhang is quite wide and offers ample protection from the elements.
It would be the perfect way to bring a smile to anyone who loves to be a part of nature.
Get the latest price on Amazon here…
Pleasant Nature Feeder
Shaped like a little house, this bird feeder is also a high quality piece of art. As with the other feeders, it attaches to any window with three large suction cups.
There's no overhang. Instead, a large circular cutout allows the birds to enter the house and relax. Or they can perch on the outside if they need to rest.
A removable divider allows for two different types of seed to be place inside. A tiny third compartment holds a small amount of water to hydrate the little guys.
They're protected from larger pesky birds and unfavorable weather. The tray slides out to refill the seeds or to be cleaned. Drainage holes in the bottom of the tray help to eliminate wetness and circulate fresh air.
What a wonderful distraction to put outside your office window. The clear visibility of the feeder will occupy the cat endlessly.
The beauty of nature is visible in a tiny house-shaped bird feeder for the whole family to enjoy.
See the latest price on Amazon here…
Which Bird Window Feeder to Chose?
Become intimate with the life of birds using one of these long lasting feeders. Be warned – nothing is absolutely squirrel proof. Place the feeder on a window in a high position away from branches to deter unwanted visitors. But if squirrels or chipmunks are your favorite, it will work just as well for them.
To bring a little outdoors into your life, the KOVOT Acrylic Window Bird Feeder is small yet attractive. It's great for a tiny kitchen window. It can even be used inside as a perching post if you have pet birds.
But if you want to see the larger picture of birdlife, try the Large Window Bird Feeder by Nature's Hangout. Made to accommodate a larger species of birds, you'll enjoy these big guys coming over for a bite to eat while you watch.
Whichever model you choose, pure enjoyment awaits as you get a behind-the-scenes look into a birds life.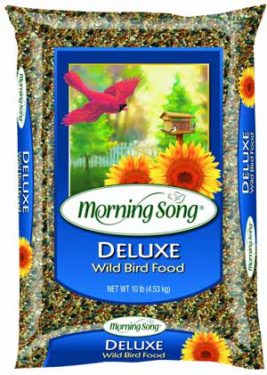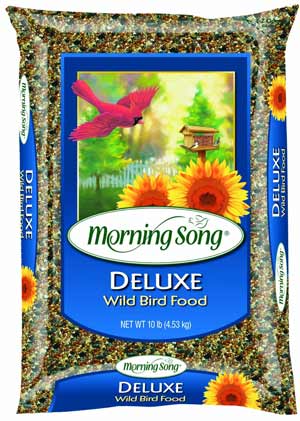 Buying wild bird seed and peanuts in bulk makes perfect sense as you can save yourself a fortune over time.  
We review 5 top rated seed and peanut brands in bulk…
SaveSave