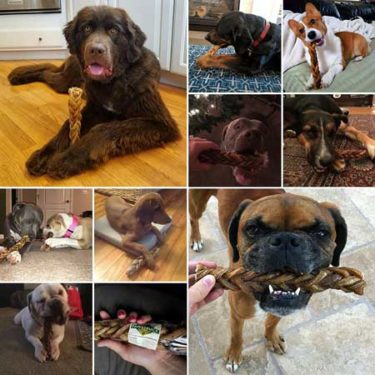 Giving your pet one of the top rated dog treats recommended for proper dental hygiene is important.
Strays, rescues, and pure breeds need tooth care just like we do. Tartar, plaque, cavities, and bad breath don't discriminate.
Canine dental disease can cause a host of problems that aren't cheap to fix.
Remove Dog Tartar
Finding healthy chews that are also tasty snacks that can remove dog tartar naturally is a priority for responsible owners.
Chew sticks provide natural dog tooth care by cleaning teeth and gums during the normal chewing process. Power chewers need something not only resilient but that also cleans teeth and gums.
Organic Dental Chews for Dogs
Vegan dog treats and organic dental chews for dogs can alleviate allergy symptoms since they lack animal by-products and chemical additives. While we don't cover vegan dog treats, we did find other snacks that your dog may find scrumptious.
PEDIGREE Dentastix Large Dog Treats 
Dog treats don't have to be for snack purposes. Everyone has bad breath and that includes our canine friends. Dental sticks tickle the taste buds as they remove dog tartar naturally.
If brushing your dog's teeth isn't an option, letting him snack on some healthy chews is an easy fix.
As the chicken-flavored treat is chewed, it's removing plaque and tartar. The green tea extract works to neutralize bad doggie breath.
Made for the large version of man's best friend that are over 30 pounds, the recommended serving is one stick per day.
The ingredients and chewy texture aren't suitable for puppies or smaller dogs' digestive systems and could cause vomiting and diarrhea.
With 32 dental sticks per box, that's a month of natural dog tooth care and fresh breath.
More information and latest price on Amazon here…
BLUE Wilderness Wild Bones Grain-Free Dental Chews 
To be on our list of top rated dog treats, we've learned that sometimes less is better. Ditch the animal by-products, corn, wheat, and soy additives.
These grain-free chews have no artificial colors, flavors, or preservatives. How's that for some super healthy chews?
This 10-ounce bag (six or seven treats per bag) of baked treats gives your dog the satisfaction of crunching a delicious snack as it cleans his choppers.
Dogs between 25 to 50 pounds can enjoy chowing down on a gluten-free snack packed with vitamins. It helps to clean dog's teeth naturally while satisfying his need to chew.
If you're finding yourself replacing furniture or shoes on a regular basis, try giving your buddy a chewy treat to curb those chomping urges.
Get the latest price and more information on Amazon here…
PEDIGREE Dentastix Toy/Small Dog Top Rated Dog Treats
Like its counterpart for large dogs, these smaller versions help to remove dog tartar naturally for the tinier rascals.
Little dogs (not puppies) are adults with compact bodies but still have the urge to chew and need regular oral care.
The triple action chicken-flavored sticks provide natural dog tooth care and freshens stinky breath.
X-shape and chewy texture cleans between the teeth and to the gum line to remove plaque and tartar buildup.
Each box has 108 treats made for adult dogs between 5 – 20 pounds. One treat per day gives over three months of dental cleaning. Not a bad deal if you want to give your dog one of the top rated dog treats on the market.
More information and the latest price on Amazon here…
Himalayan Gold Yak Dog Chews 
You can never go wrong with organic dental chews for dogs. Organic simply means it tastes better because of the lack of chemicals and additives.
Dogs with sensitive tummies and weird allergies can't tolerate the ingredients of most dog snacks.
Made from organic Himalayan yak and cow milk, the chews are odorless, preservative-free, gluten-free, and lactose-free. They're odorless and don't require any refrigeration.
Three to four super gigantic chewy treats are in each one-pound bag that will occupy your pooch for hours. One stick is 6 – 8 inches long and 1 – 2 inches wide. That's one heck of a snack.
Large dogs like huskies, great Danes, German shepherds, and Pit Bulls will love sinking their teeth into these easily digestible extra-large snacks.
More information and the latest price on Amazon here…
MONSTER Braided Bully Stick for Dogs 
Bully sticks (also called pizzle sticks) are tougher than the average dog snack but less dangerous than a real bone.
Made from free-range bull penises and slow baked, they're able to stand up to excessive chewing.
Eight sticks are braided together to form a single monstrous chew stick. Aggressive chewers like Pit Bulls, Boxers, Golden Retrievers, and even lovable Beagles can destroy anything.
With a super-sized chew stick that can also clean dogs teeth naturally, they'll forgot how scrumptious your shoes and furniture are.
Bully sticks are 100% digestible unlike rawhide and bone. No artificial colors, preservatives, or chemicals are added.
As one of the top rated dog treats for destructive chewers, your dog can satisfy his urge to gnaw and destroy while getting his teeth cleaned.
More information and the latest price on Amazon here…
Which top rated dog treats will make your dog happy?
We love our family mutts. That's why it's important to give them the right types of snacks.
The teeny weeny tikes will enjoy brushing their miniature fangs with PEDIGREE Dentastix Toy/Small Dog Treats. Chewy and just the right size to be held between their little paws, these tiny treats are a snack and toothbrush in one.
For those vigorous masticators, the MONSTER Braided Bully Stick for Dogs will wear out their power jaws. Eight sticks braided into one large powerhouse of a snack will cure their chewing urge.
As with any treat, make sure fresh water is available to wash away the residue of the snack.
If your pet has severe allergies, try vegan dog treats as a healthy option. Otherwise, try one of our recommended top rated dog treats. Dogs love them and pet parents love how they clean dog's teeth naturally and safely.

Are you looking for a dog or perhaps a second pooch?  Perhaps you are undecided about which breed would be best suited for your home?
We review 5 top rated dog breed books to give you a wealth of information on the breeds of dogs, their characteristics, quirks and more.  

See the review here…
SaveSave
SaveSave
SaveSave
SaveSave
SaveSave