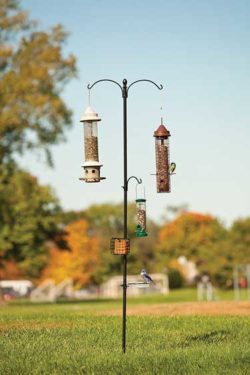 Supplementing the diet of wild birds can be beneficial to their survival. They know how to feed themselves, but climate change, habitat destruction, and harsh winters can make finding food impossible. Adding cool bird tables to your yard gives these beautiful creatures a helping hand.
The variety of feeding stations has increased over the years from simple bird feeders to beautifully complex creations.
Depending on the type (and amount) of birds you'd like to attract to your yard, you'll need to know what attracts birds to bird feeders.
The bird feeder location, a variety of seeds, and space for them to land is all they need.
Gardman Bird Feeding Station Kit
Why have simple bird feeders when you can have a three-station feeder instead?
Birds will come in hordes to your yard when they see this versatile feeding station.
Three hooks for holding feeders, a bird bath dish, and a micro-mesh suet tray offer plenty of space to hold a variety of food.
This Guardman bird feeder stands 6-feet tall (73" inches) and is able to provide plenty of space for different sized birds to eat. You can feed hummingbirds, finches, and doves all in one place.
The top has a lovely fleur-de-lis decorative style. It's divided into three pieces that screw together.
Stake it in the ground, hang your feeders, and watch the birds flock to you. Completely made from metal, the surface is covered with a rust-resistant black coating.
With three feeding stations and a bird bath, your yard will never be empty.

Panacea Wild Bird Feeding Station Kit
It's not difficult attracting wild birds to feeders when they hang from this 7-foot (85 inch) tall feeding station.
Three stations, a metal suet cage, and bird bath make this station kit a wonderful place for wild birds to feast.
All of the stations are movable and detachable for easy re-positioning.
Make the hangers as high or low as you need them.
Customize the look and functionality to make this the perfect bird haven. Hang some cool bird houses and watch them nest.
Stake it in the ground for a durable and stable way to feed the local birds all year long.
Lightweight steel material makes it easy to change the bird feeder location without jeopardizing its durability.
Shipped in three pieces, assembly is a cinch. Attach the hooks with the included wing nuts, and you've created a multi-bird feeding station right in your back yard.

Gardman Painted Bird Table, 22.83″ Wide x 60.24″ High
Feeding stations come in all shapes and sizes. So do some really cool bird houses. What happens when they mix?
The cutest of the Guardman bird feeders is born.
A house and feeder combo is perfect for attracting wild birds to feeders in small yards or patios.
If the bird feeder location is limited due to space, you can still enjoy the benefits of wild birds with this free-standing country cottage feeder.
It's made of solid pine and has real cedar shingles.
The copper roof ridge adds an attractive architectural touch.
Standing five feet tall, this shabby chic creation holds quite a bit of seed.
It's large enough for doves, yet cozy enough for blue jays and finches.

 5 Piece Erva Bird Feeder Pole Set with Twist-in Ground Socket – design your own custom bird feeder.
Would you rather construct your own designer bird feeder table or make your own bird house?
The Erva Bird Feeder Pole Set gives you a rock solid base to mount your desired feeder or bird house securely into place.
This five piece set consists of a twist 'drill' auger base pole which grips the earth in a spiral motion adding far more stability than a conventional 'javelin' type anchor can offer.
There are three 1″ diameter steel interlinking poles and a mounting flange plate measuring 3-3/4in x 5-5/8″.
The total of 80″ (including the auger at the base) can give you a height of between 60-70″ to the base of the bird table or bird house so there is plenty of scope for height adjustment.
There are four holes in the mounting plate to allow easy attachment to your chosen table or custom bird house.
Its easy to assemble, attach and put into position and also easy to relocate if desired.

Gardman Complete Bird Feeding Station Kit with Four Feeders
What attracts birds to feeders? Lots and lots of seed!
Standing 6'1" high (above ground) with four feeder hangers, bird bath, micro-mesh tray, and a "Fat Snax" hanger, you don't need anything else.
Attracting wild birds to feeders like this is too easy.
Two silo seed feeders, one silo peanut feeder, and one suet feast feeder are included.
Add suet, meal worms, or food scraps to the mesh tray.
The bird bath is split into two levels to accommodate large and small birds.
It's made of durable metal covered with black rust-resistant finish. The decorative barley twist top adds to the flower-like shape of this elegant feeding station.
Your garden will truly come to life with the variety and quantity of wild birds that will be attracted to this exquisite feeding station.

Which cool bird tables and feeding stations are the best for your feathered friends?
Being hungry isn't fun. Being unable to find food is even worse. Help the wild birds by supplementing their food supply.
With a beautiful yet functional feeding station, you'll feed hungry birds while enhancing the beauty of your yard or garden.
Whether you prefer simple bird feeders or ultra-cool bird houses, there's a large variety from which to choose.
Adamant nature lovers can bask in the multitudes of wild birds ambushing the Gardman Complete Bird Feeding Station. You can't go wrong with six feeding stations, bath, and three included feeders.
But if you'd like to start small, the Gardman Painted Bird Table has style and simplicity as it offers refuge and nutrition.
Big or small doesn't matter. Adding a bird feeding station to your garden will help sustain wild life as it flourished while you watch.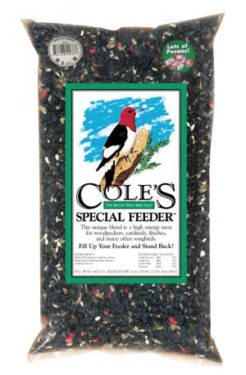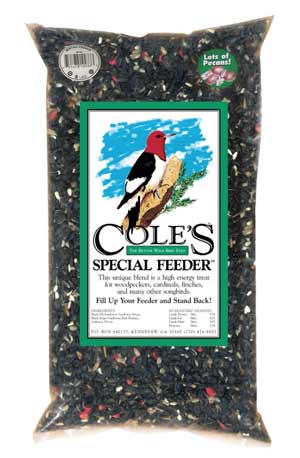 Save yourself a fortune – If you buy small quantities of wild bird feed the cost can really mount up.
Buy wild bird feed in bulk.  
We review 5 top rated bulk wild bird feeds [more…] 
SaveSave