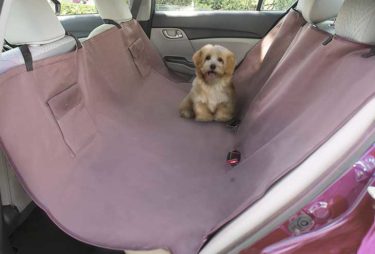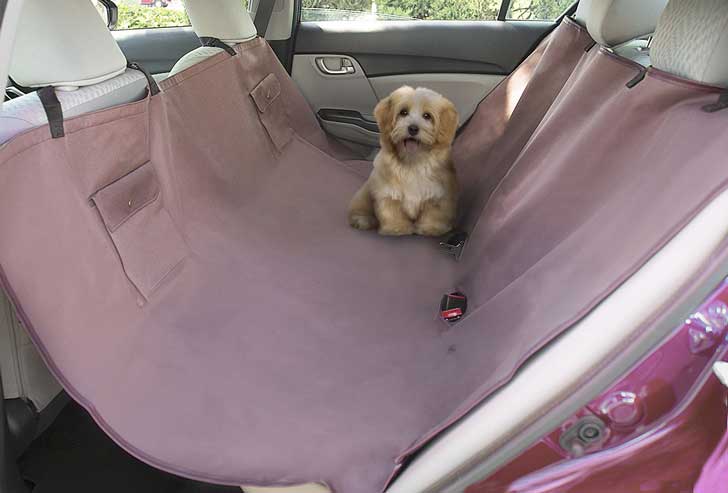 Keeping your vehicle clean is difficult when you have children. Having pets makes it almost impossible. Pet car covers are the answer.
Dirt, hair, and drool are deposited everywhere our family and pets go. But there is a way to minimize some of the mess when you use pet car covers to protect your seats.
Purchasing car seat covers for pets keeps the mess contained and prevents the seat from damage.
Maybe you just have messy toddler and want to protect the car from spit and spills.
The best back seat cover for dogs and cats can double as a seat protector for children, too.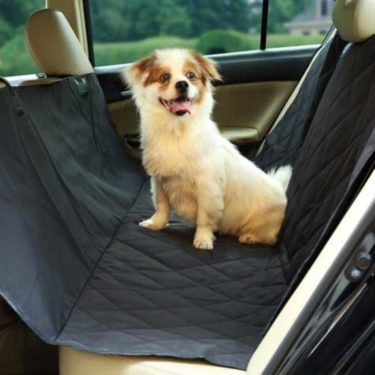 Pauraque Pet Car Covers for Cars, Dog Hammock, Slip-proof, Waterproof
As a great back seat cover for pets on the go, this protects your seats while doubling as a barrier to the front seat.
The waterproof polyester material keeps the back seat dry and clean.
Velcro strips are used to attach it to the back seat head rests. A non-slip backing gives it a strong grip on the seat to prevent it from balling up.
Use the Velcro straps on the opposite end of the cover to hook around the front seat headrests. Seatbelt openings allow access for buckling up. Brush over a wet rag to clean it, shake the hair off, or wash it in the sink.
It fits most average-sized cars and SUVs that have headrests. The entire back seat is safe from sharp nails, hair, urine, mud, and other unpleasant debris. Unhook it, wrap it up, and slide it in the included tote bag.

BarksBar Car Covers for Pets With Seat Anchors for Cars, Trucks and Suv's 
A triple layer of waterproof heavy-duty polyester material won't let anything soak through to your back seat.
The quilted pattern on the color-fast material with extra padding makes it more comfortable than some other seat protectors for pets.
A rubber non-slip backing and seat anchors keep it firmly in place. Hook it around the head rests to secure it.
Wrap the straps around the front seat head rests to create a protective hammock that blocks your pet from peeking through the center opening.
Velcro seatbelt openings give you access if needed and protection when you don't.
You'll love the protection this back seat cover for pets (or messy children) gives your vehicle, but your pet will love what it does NOT have.
No dyes, arsenic, lead, mercury, or heavy metals of any kind.
Wipe it clean with a wet cloth, vacuum it, or throw it in the washer.

Megalovemart Hammock Style Waterproof Pet Car Cover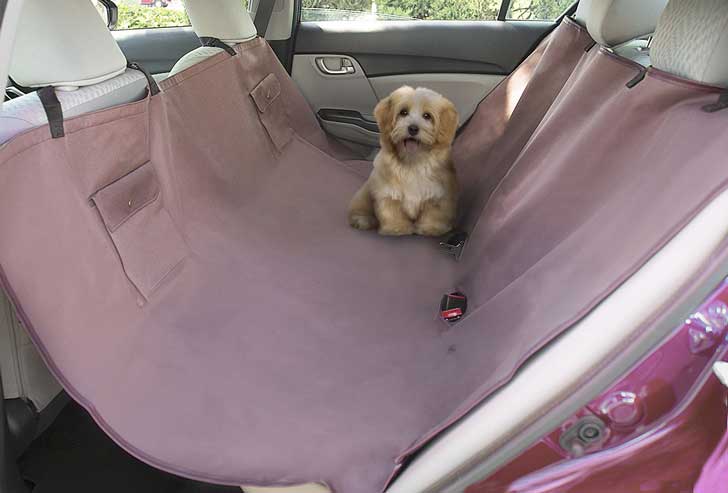 Seat covers for dogs in cars or SUVs guard against drool, bladder leaks, and vomit while making it easy to clean up.
Like other hammock-style back seat covers, the waterproof polyester material is flexible and comfortable. What is different about this car seat cover for pets is that it has two storage pockets.
Positioned behind the two front seats, they are easily accessible. Keep treats, baby wipes, toys, leashes, and other pet paraphernalia within reach. Snap them shut so your pet can't get them.
Adjustable straps wrap around the headrests of the back and front seats. Seatbelt openings let you buckle the kids in without a problem.
A quick run of the vacuum cleans the hair, or use a lint roller. For liquid messes, throw it in the washer. It cannot be dried, so lay it out to air dry.

AmazonBasics Waterproof Bench Seat Car Covers for Pets
This seat protectors for pets is made with 100% polyester which means your back seat will be protected from scratches, dirt, and spills.
Elastic straps stretch to fit over two back seat headrests. Two seat anchors keep in stuck in place.
It's not a hammock-style cover, so the bottom folds over the bench seat and stops at the floor. Two elastic bands go under the seat to lock the bottom in place.
Being waterproof means no need to worry about a puppy accident soaking through the cushions.
It allows for spot cleaning only, so don't throw it in the washer. No extra padding is built in, but you could slip an old blanket underneath for an added layer of cushioning.
When it comes to seat covers for dogs in cars, this choice is a pretty good one. It's durable and serves the purpose as a quick, easy, and inexpensive way to keep your back seat safe, dry, and undamaged.

Glyby Pet Covers for Car Seats  – Quilted Waterproof Non Slip Hammock 
Four layers of high-quality material make this car seat cover for pets durable, waterproof, and comfortable.
Use as a hammock to protect the entire back seat, or as a regular seat cover with the floor accessible. Two large pockets and two smaller ones are built in to hold leashes or snacks.
The anti-scratch lining prevents pet nails from tearing into the seat beneath. Rubber non-slip backing keeps it in place which works well for leather seats.
The rubber backing can handle a gentle cycle in washer but should be air dried. Seatbelts can be pulled through the pre-sewn openings.
Two rubber bottom security handles grip onto the seat to prevent bunching and sliding.
Choose from two versions: thick or thin. The thicker has more padding while the thinner lacks the quilted cushioning.

Conclusion – Choosing the Best Pet Covers
The best back seat cover for dogs, cats, or children is one that can guard against all types of mishaps.
Enjoy road trips with toddlers and visits to the beach without leaving your beloved pet locked in a kennel at home. Use car seat covers for pets to extend the life of your back seat and reduce cleaning significantly.
We recommend the  Glyby Dog Car Seat Cover as one of the best back seat covers for dogs and cats due to its versatility, security grips, and thick/thin options.
The AmazonBasics Waterproof Car Bench Seat Cover is a bit simpler, but does a fantastic job of guarding against animal and toddler messes.
Choose the one that will provide the protection you need while keeping your pet (or child) comfortable and clean.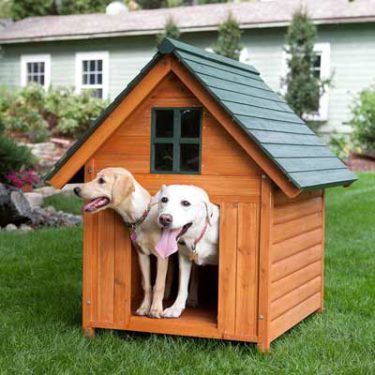 Looking for a great dog house for your best friend?
Dog kennels need to be warm, cosy and robust to keep your pooch happy and secure against the elements.
We review 5 of the best top rated dog houses here…
SaveSave
SaveSave
SaveSave
SaveSave