Pet food bowl mats establish a designated eating area for pets. Cats and dogs, like children, need structure and repetition.
Keeping their food and water in a specific spot helps them feel secure and comfortable. It reduces their stress level if they know exactly where to go to satisfy their hunger.
But they drool. They flick food. They spill water. So how do you keep the mess confined to their eating area?
Using waterproof cat and dog bowl mats contain the liquid spills. A pet food mat with a lip has slightly raised edges to catch those rogue kibbles from rolling away.
They can be used indoors, outdoors, at home, or on vacation. While mats won't prevent all messes from happening, they can help deter some of them from getting out of control.
Pet Food Bowl Mats – Made in USA – Set of 2 Premium Dishwasher Safe Pet Food Bowl Mats
Two cat and dog mats for food and water come in this set. One mat is black with a teal design while the other has a black background with either white dog bones or fish bones.
Non-slip backing keeps them in place as your pet feeds.
Both of these waterproof cat and dog bowl mats are dishwasher safe and non-toxic. Made from 98% recycled neoprene, they are safe for your pet and family.
They're easy to clean with a quick wipe of a sponge. Being eight inches in diameter, they accommodate a full-sized food bowl with room to spare around the edges.
Drool and water dribbles will be soaked up before they can hit the floor.

Jack of All Trays Premium Multi-purpose Tray
A great pet food mat with a lip that can catch all those ugly spills is finally here.
The non-slip bottom keeps it stationary as your pet vigorously attacks his food bowls.
The rectangular shape makes it easy to fit two feeding bowls next to each other.
Does Fido knock over his water dish? No worries. It's waterproof and the outer lip means the edges are curved upwards to prevent spills from running amuck.
Drool and wayward kibble will be caught before escaping onto the floor and across the room. When it's time clean it, wash it in the sink or spray it off with a hose.
It's made with high-grade polypropylene for durability so it was meant to withstand scratching and chewing. Use it indoors or outdoors any time of the year.

RayCC Pet Food Bowl Mats
With its flocked fabric top and rubber non-slip bottom, you'll enjoy this non-toxic cat and dog mat for food and water as it adds a bit of décor to your pets feeding area.
The flower pattern top provides textured resistance to keep the food bowls from shifting during meal time.
Designed to catch debris, the grooves capture and hold escaping food particles and water spills.
Because it's manufactured with soft flexible material, it can be rolled up and neatly packed for traveling.
When it needs cleaning, it can be shaken out, brushed, or vacuumed. For a deep cleaning, throw it in the washing machine on a gentle cycle.

Premium Pet Food Tray
Messy eaters need a little help to keep their feeding area clean. By using a pet food mat with a lip, messes and accidents can be kept in check.
The edges of this waterproof polymer plastic mat form a barrier to catch spilled water and runaway food.
They protect the floor from water damage and accidentally stepping on leftover food bites.
It's 100% recycled material and non-toxic. Its non-skid backing keeps it rooted in place. If you're traveling with your pet, roll it up and take it with you.
It's easy to clean, too. Hose it off, wipe it with a sponge, or wash it off in the sink. Use it indoors, outdoors, or in a kennel. The neutral color and design make it easy to blend in with almost any décor.

JW Pet Company Stay in Place Pet Food Mat
Dogs love to chew things. This hard plastic waterproof cat and dog bowl mat has reinforced corners for extra durability that resist bites and chewing.
They're covered with heavy duty rubber that withstands chewing while adding extra traction to prevent moving.
Made of stiff plastic, it doesn't bend or flop around. For extra traction, it's designed with tiny raised nubs. These bumps create resistance to help keep feeding bowls in place.
Because it's a pet food mat with a lip, it works well when placed under a pet fountain to catch splashes and spills. The size of a small serving tray, it can hold two average-sized bowls.
When it's dirty, the plastic is easily cleaned with a wet sponge. They come in a variety of colors, but it's chosen for you at the time of purchase.

Which pet food bowl mats would be best for you?
We love our pets, but we don't have to love their mess. They, and the entire family, will enjoy the confinement of their food and water on a protective mat.
Designate a feeding station for your pet and protect your floor with the Premium Pet Food Tray.
Because it's a pet food mat with a lip, it not only protects the floor, but it prevents the mess from spreading. Water spills, excess drool, and flyaway food chunks are caught and suppressed.
For a household with multiple pets, it may be economical to try the Set of 2 Premium Dishwasher Safe Pet Food Placemats.
There are all the perks the other mats have – non-toxic, non-skid backing, and easy clean up – but you get two for the price of one.
Using a food mat creates familiarity for your pet, consequently protecting the floor from spills, slips, and potential damage.
So start thinking about using a mat. Keeping your pet healthy, happy, and mess free will make everyone much happier.
Related articles: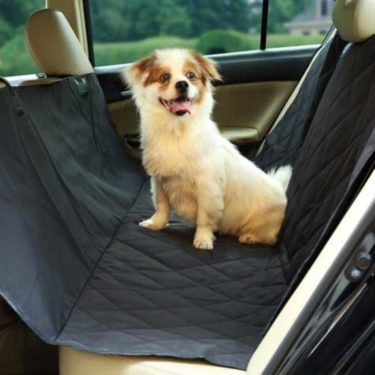 Pet seat car covers – Keep your car seats in pristine condition and free from unwanted pet odours [more…]
Which breed of dog would you choose?  
See 5 top rated Dog breed Books reviewed [more…]