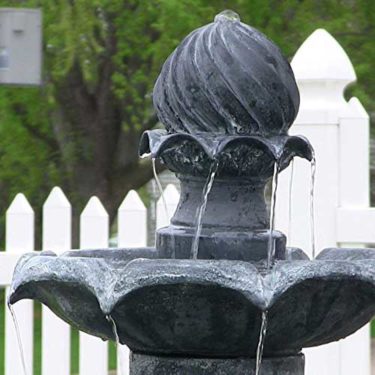 Having a solar powered bird bath in your yard gives the neighborhood birds a place to rest and freshen up.
The sound of cascading water mixes with the melody of song birds as they stop by for a drink and some playtime.
Relax by the garden as you watch the local wildlife delight in the wet diversion of a solar birdbath fountain.
Since it's powered by the sun, there are no operating costs. Place it where the sun shines brightest, add water, and wait for nature to take its course.
Your solar birdbath will bring all the birds to the yard before you know.
Smart Solar Powered Bird bath fountain 
This delightful solar powered bird bath fountain is a whimsical addition to your garden.
It's manufactured in one solid piece so there's no assembly. The weathered stone finish lends an air of sophistication to the garden.
Yet it's lightweight and can be easily moved. A solar panel soaks up sun rays and powers the internal pump to produce a flowing fountain.
Add 2.5 gallons of water, and the fountain recycles it into an endless gurgling waterfall. No hoses to attach, or water to waste. Birds will love visiting with the two built-in tortoises perched on either side.
Set up this solar birdbath fountain and enjoy watching the antics of your favorite feathered friends as they splash and bathe.
Best Choice Products Solar Powered Bird Bath 2 Tier Weathered Fountain 
There's plenty of space at this double-basin solar powered bird bath.
The top basin holds 2.5 gallons of water that spill over to the basin beneath via four grooved outlets.
Change the way the water shoots out of the pump with four interchangeable spouts.
You add the water, and it's recycled, requiring no hoses or plugs. Keep it filled with water as needed or the pump will overheat.
Sunshine powers the water pump for up to six hours a day when fully charged. Four bright LED lights built around the spout turn on automatically at night.
The weather resistant stone finish gives this beautiful solar birdbath the illusion of being much heavier than it actually is. Made from glass fiber-reinforced concrete, it's stable yet movable.
Larger birds and squirrels might even stop by. Position it in the flower bed, a tree stump, or the patio. Sit back and watch your winged friends frolic and play.
Smart Solar Mosaic Style Birdbath with Metal Stand & Ceramic Glazed Finish 
A more modern style of solar powered bird bath fountains can add a bit of pizzazz to any garden. The black steel legs balance the weight while providing stability as birds land.
At 28 inches tall, it's easy for wildlife to spot. The sparkling mosaic tile of the ceramic bowl entices them to swing by and have a look. T
he blue and white tiles create a lovely design that can complement your garden.
The raised spout of this picturesque solar birdbath gently spits out recycled water through the solar powered pump. When it needs a cleaning, just wash it with a sponge and soap.
No batteries are used, so the solar panel needs to be in direct sunlight to work. A bit of assembly is required, but not much. No wires, no hoses, and no electricity. Just a peaceful atmosphere for you and your birds.
Joseph Studio Tall Angel Sitting By a Solar Powered Bird Bath 
Add an adorable angel to watch over your tiny garden dwellers with this attractive solar powered bird bath.
At 11 inches tall, this sweet little angle welcomes all creatures to drink out of a wide bowl.
Made from resin stone mix, the details are astounding. From her chubby fingers to the textured lines of each feather in her wings, she looks miraculously real.
The solar birdbath panel requires direct sunlight to power up a full charge. At night, a mesmerizing blue light automatically illuminates the statue.
A soft white light brightens the darkness and shines on the face and hand of this sweet cherub. Find peace as this charming angel memorializes a loved one. Or let her add a touch of harmony to your garden.
Sunnydaze Black 2-tier Solar Powered Bird Bath Fountain with LED Light
Give your birds the ultimate bird bath gift.
Reminiscent of a Roman fountain, this fiberglass bird bath available in different colors and finishes will be the main attraction of the neighborhood.
At 45 inches tall and two deep-dish basins, birds of all sizes can enjoy an afternoon dip.
A solar panel using direct sunlight powers the water pump recirculating water to cascade gracefully.
Provides drinking water for wildlife and a stunning visual experience for you. Squirrels and birds will romp and splash as you enjoy the soothing sound of a robust waterfall in your back yard.
Brighten Your Yard with a Solar Powered Bird Bath
Share your garden with the wild creatures who owned it before you did. Birds, squirrels, and even butterflies will find their way to a watering hole.
Give them a place to rejuvenate themselves with a solar powered bird bath.
The Joseph Studio Tall Angel Sitting By Solar Bird Bath is an ideal solution for a smaller space. This pint-sized angel will watch over your flowers and feathered friends throughout the day and brighten their paths at night.
If you want to make a statement, let the Sunnydaze 2-tier Arcade Solar-on-Demand Water Fountain be the focal point of your yard.
No matter the size of your yard, wildlife will thank you when you provide a safe retreat for them.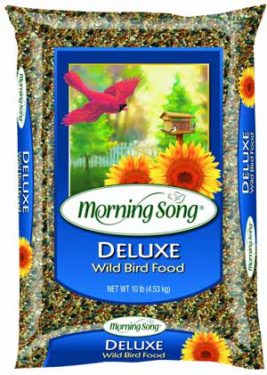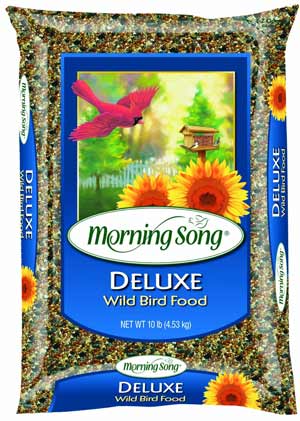 Would you like to save a lot of money? 
Is your wild bird feed costing you an arm and a leg when you total it up over a year?  
Would you consider buying in bulk and saving yourself a fortune?
When you work out the savings you can make you will be amazed!
See 5 top rated bird feed in bulk here…