The best squirrel proof bird feeder ensures that the bird food goes to the birds, not the squirrels. Watching the flurry of activity that happens at the birdfeeder is always interesting.

There always seems to be a surprise waiting when the neighborhood birds get together. But those adorable shenanigans can be interrupted when curious squirrels steal the food.
How do you keep those pesky thieves from disrupting the bird feeder harmony? Find squirrel proof feeders that work by allowing birds to gather while humanely preventing access to squirrels.
Brome 1057 Squirrel Buster Standard Wild Bird Feeder
Hang this feeder from a tree or shepard's hook in your yard and wait for the birds to come. Fill it up with ¾ pounds of your favorite bird seed mix. Squirrels will no doubt be enticed by the tasty seeds, but they won't be able to get any.
When the squirrel climbs onto the feeder, its weight will trigger the closing mechanism. All four food openings seal shut. After he jumps off, the lack of weight signals the mechanism to reopen the feeding holes.
Squirrels (and heavier birds) won't be able to steal a single seed making this one of the best squirrel proof bird feeders. The metal mesh shaft holding the seed is ventilated to prevent molding and rot.
The footholds are designed for comfortable perching and longer visits. Finches, chickadees, woodpeckers, cardinals and more are all welcome.
Brome Squirrel Solutions Seed Saver 200 Wild Bird Feeder
This feeder will have birds coming to your yard non-stop. The yellow funnel fits inside the square wire frame to make refilling the feeder easy with no mess.
Six feeding ports allow for multiple birds to eat at once. The square wire cage protects the plastic funnel, making it 100% chew proof.
The locking top keeps smart squirrels from popping the lid and helping themselves.
All six ports close as soon as it detects the squirrel's weight.
Definitely at the top of the list of best squirrel proof bird feeders, it accomplishes the goal of protecting the bird seed.
Squirrels can chew, bite, and scratch and still fail in stealing a midday snack out of this feeder.
Get the latest price on Amazon Here…
Stokes Select Squirrel Proof Bird Feeder 
Possibly the best squirrel proof feeder for smaller birds, it takes protecting your seed to the next level. Deter larger birds and troublesome gray squirrels with an extra layer of protection.
The plastic feeding tube has three ports with individual perches while being encased within a circular metal cage.
The cage puts a few inches of distance between itself and the feeder tube.
It's impossible to steal the seed since large birds and gray squirrels can't reach the feeding ports.
The twist-lock top outsmarts squirrels who may be too smart for their own good. Seed stays clean and dry yet accessible to smaller songbirds.
Get the latest price on Amazon here…
BirdMaster Window Bird Feeder – Squirrel Proof B01IR4DK34
The easiest way to stop squirrels from raiding your bird feeder is to keep it out of their reach. Impossible, right? Not always. Squirrel proof feeders that work don't always have to be steel cages with complicated moving parts.
Squirrels can't climb on it if they can't reach it. Having a window feeder brings nature up close and personal.
Enjoy watching birds perch and eat as you sit inside your house. Strong suction cups attach to any clean window to secure the feeder.
Fill it up with seed. Sit back and let nature take its course. The acrylic design allows an unobstructed view so you can watch your bird friends stop by for a meal. Just make sure no overhanging branches are nearby that could allow squirrels to get too close.
It's possibly one of the best squirrel proof bird feeders you'll find for watching birdlife while terminating squirrel access.
See the latest price on Amazon here…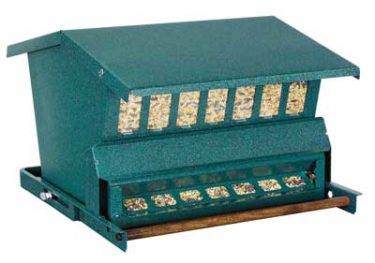 Woodlink Absolute Squirrel Resistant Bird Feeder 
This cute bird feeder resembles a small barn filled with seed to attract all types of finches, blue jays, and more.
Holding 15 pounds of bird food, squirrels are bound to come calling. But the spring-activated perch stops them in their tracks.
The perch is counter-balanced to close the feeding doors when the squirrel's weight is detected. No opening, no food. Adjust the weight limit to accommodate light, medium, or heavy birds. Being able to set your bird preferences makes this possibly the best squirrel proof bird feeder for the avid bird lover.
If the wrong sized bird (or squirrel) hops on the feeder, a metal shield slides down to block access to the seed tray. The roof latches shut and opens easily for refilling. An overhanging roof design keeps the seed dry and fresh. Now you can feed the birds and not the squirrels.
See the latest price on Amazon here…
Which is the Best Squirrel Proof Bird Feeder for Your Yard?
Finding the best squirrel proof feeder for your yard depends on its environment. Low hanging trees and the type of birds in your neighborhood are variables that determine the type of feeder you need.
The Squirrel proof feeder that work well for smaller birds is the Stokes Select Squirrel Proof Bird Feeder. With its tube feeder inches away from the metal casing, tiny birds can eat and rest peacefully without bothersome squirrels.
If you'd like to see bird feeding at its best, try the BirdMaster Window mounted  – Squirrel Proof bird feeder. You'll get an insider's view of the life of birds as you watch them through your window without squirrel interference.
Squirrels aren't always the bad guy. They just need to have a designated feeder for themselves. If not, then getting one of the best squirrel proof bird feeders may be the only way to let your birds enjoy their food.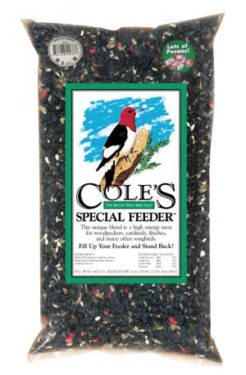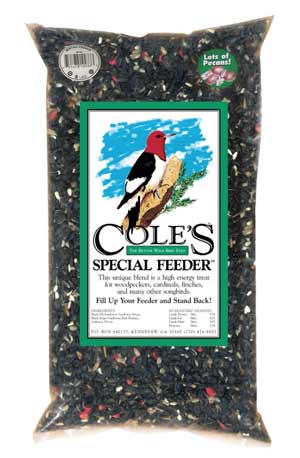 Buying wild bird food in small quantities has an advantage for storage space.  
However the cost of buying small creeps up and up without you realising.  
Check out our review on bulk seed and peanuts – You could save a fortune!
SaveSave
SaveSave
SaveSave