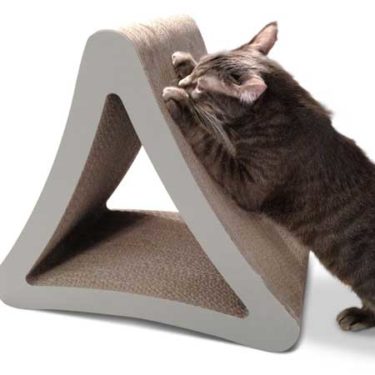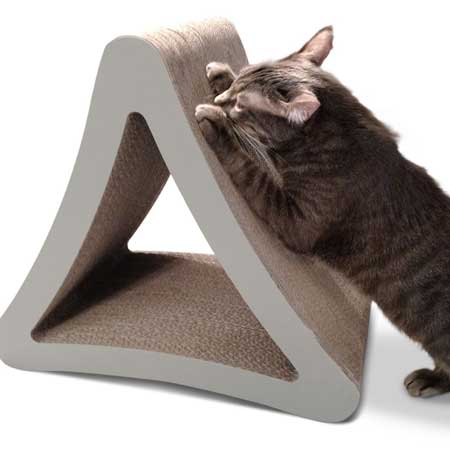 The best cat scratcher your cat the opportunity to play, exercise, and de-stress by scratching and stretching their claws. Cats can shred almost anything to pieces. Their sharp nails and strong claws are made to protect them in the wild. 
While domesticated cats don't necessarily need to protect themselves, they still have the urge to sharpen their nails. What better way to do that than to shred every piece of furniture and carpet you have?
You could simply replace everything on a regular basis. Or you can invest in one of the best rated cat scratchers that will naturally deter them from destructive behaviors.
PetFusion Best Cat Scratcher for the Cat Who has Everything! 
Made from recycled cardboard and non-toxic glue, your cat can flex his muscles all he wants on this modern cat scratching post. Sprinkle some organic catnip (included) into the honeycomb design, and watch your cat fall in love with his new toy.
The chic curved design lets it double as a lounger when the scratching is done. The figure-eight design makes playtime interactive as he scrapes his nails, chews, and attacks the rounded edges.
Multiple cats can chase each other through the tunnel-like openings or stalk a nearby tail from their new hiding place. Cats love to people watch from high places. Make some feline wall art by hanging the scratcher on the wall (like a shelf).
Once they've had their fun, they'll bask in the relaxing catnip aroma as they lounge for a midday nap.
Get the latest price on Amazon here…
KONG Naturals Incline Scratcher Cat Toy 
Sprinkling cat nip on a scratching post sometimes leaves behind a mess as the leaves accumulate on the floor. With an incline cat scratcher, the mess is contained in the bottom compartment. The incline lets your cat scratch with his front paws while comfortably balancing on his rear legs.
Cats love the feel of tough cardboard under their nails. This durable scratcher is made with recyclable cardboard derived from natural renewable resources. It may not be one of the best cat scratchers for heavier cats, but this is a top cat scratching post for kittens and smaller felines.
American-grown catnip is included to give him a happy and relaxing way to stretch his paws. There's also a free hanging cat toy included inside the base.
Your cat can play while learning appropriate scratching behaviors.
Get the latest price on Amazon here…
SmartCat Bootsie's Three-in-One Cat Scratcher 
Help your cat get a good workout with one of the best cat scratchers for energetic cats. The sturdy wood structure is covered with wound sisal fiber. Cats can scratch without getting their nails painfully snagged.
Rubber feet on both ends let it lie flat without shifting. Or prop it against the wall or in front of his favorite piece of furniture. A slide-lock hanging hole is perfect for wall mounting.
While kittens love it, it's one of the best cat scratching posts for larger cats, too. Being 32 inches tall, it lets your cat stretch out his entire body as he rips his nails into the durable fibers.
Your couch and recliners will be safe from the onslaught of razor sharp nails as your cat enjoys his new scratching post.
Get the latest price on Amazon here…
PetFusion 3-Sided – Best Cat Scratcher for cats that need a lot of stimulation  
What's better than one scratching post? Three! This trendy triangular design gives your cat three opportunities to stretch, scratch, and play. The included organic catnip is anchored in the folds of all three sides of the cardboard honeycomb design.
Made from recycled cardboard and non-toxic glue, your cat is safe from harmful chemicals as he climbs and plays with this top cat scratching post. Vertical, horizontal, and upside down scratching gives your cat the opportunity to scratch however he prefers.
All three external sides can be used as well as the triangular insides. If one side becomes worn, flip it over. Cats can scratch the sides, run through the middle, and perch on top.
Since cats love cardboard and catnip, they'll finally leave the furniture alone when they have a modern cat scratching post like this.
Get the latest price on Amazon here…
Catit Style Scratcher with Catnip 

Bring out the animal in your favorite feline with this jungle print scratcher and lounger combo. The snazzy design invites cats to pull, scratch, and shred.
Add a bit of the included catnip on the corrugated cardboard surface, and watch the happiness begin. Once the cat's scratching instinct are aroused, he'll stretch, flex, scrape, and chew his heart out. When he has worn himself out, he can use it to lazily lounge in his catnip-induced haze.
The sturdy design makes this one of the best cat scratchers to buy because it holds kittens and plump cats equally well. And if one side becomes tattered, flip it over for a whole new adventure.
Get the latest price on Amazon here…
Defend your furniture with the best cat scratcher posts for your family feline
Scratch deterrents come in all shapes and sizes. But the best cat scratching posts serve multiple purposes of protecting expensive furniture, safely occupying your cat, and being worth the investment.
If your cat needs lots of stimulation, try the PetFusion 3-Sided Vertical Cat Scratcher and Post. Its triangular design provides two external sides to attack plus the three internal walls. He'll scratch for hours without becoming bored.
For the fat cat who has everything, the PetFusion Ultimate Cat Scratcher Lounge  has a host of stimulating opportunities. With plenty of room to clown around, your cat can enjoy it solo or with a friend. When the cat capers are done, he'll enjoy a comfy place to lounge around and enjoy his catnip.
The best cat scratchers are those that make your cat happy. A happy cat makes for a happy home. So find a functional and modern cat scratching post that will entice your cat. The furniture will thank you for it.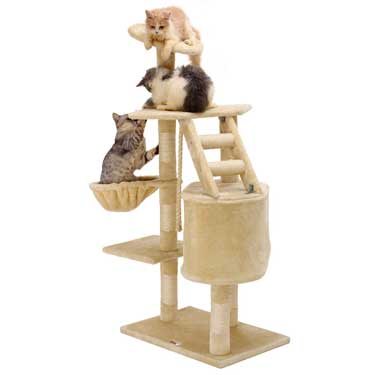 How about a cat tree to give your cat its own space to hang out.  See our review of 5 top rated cat trees which are large enough for any size cat.