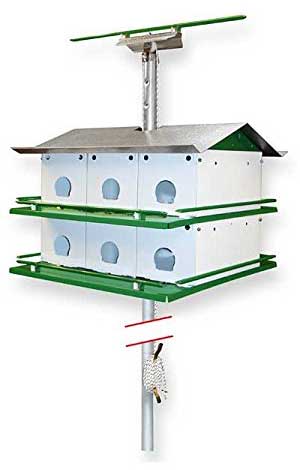 Having a martin bird house is like putting up a flashing "Vacancy" sign in your backyard. Purple martins, part of the swallow family, are extremely social birds that live and nest in colonies.
Why would you invite these guys to vacation in your yard? Aside from being blessed with dazzling shades of purple, their diet consists of flying insects. This includes flies and mosquitos. These musically-inclined and entertaining birds are Mother Nature's winged pest control.
They enjoy heights and feel most comfortable higher up. Setting up a purple martin bird house will turn your backyard into a vacation colony full of music and birdy shenanigans. Because they are in competition with starlings for nesting sites, purple martin populations have decreased in recent years.
They migrate to South America for the winter months, but they can gather in significant numbers to nest beforehand. Males scout the area in spring and establish a home for their families to nest until late summer. Offering a vacant martin birdhouse is truly a lifesaver to these amazing creatures.
16 Family Purple Martin Barn 
Open your yard to the joys of bird watching with this lovely two-story barn-shaped house that can be the new home for up to 16 bird families. A martin bird house of this size gives everyone room to relax while providing shelter from the elements.
It's easy to assemble since all pieces are made to snap together. Since it's made of UV grade polypropylene copolymer plastic, it's lightweight and easy to clean.
The sloped floors and roof overhangs let gravity create the perfect drainage system to keep the resident birds dry. When they arrive to nest, they'll choose from one of 16 separate rooms.
Railed porches outside the keyhole entrances provide a safe landing area. There's plenty of other perching spots available on all four sides of the house. The white front panels give increased visibility as your new tenants enjoy their charming purple martin birdhouse.
Snap it together, raise it, and watch them come back year after year.
Get the latest price on Amazon here…
Heath PH12 Plastic 12 Room Purple Martin Bird House
This plantation-style plastic purple martin house adds a bit of southern charm to your yard. Since starlings and sparrows will aggressively take over purple martin nests, the design of this house will protect against your new friends being evicted.
With 12 rooms in this two-story design, they'll have plenty of space to start a family. The snap-together assembly means no tools are needed.
Since summer heat can be stifling in some areas, this martin bird house is ventilated for coolness. Heavy rains aren't a problem since pre-made drain holes lets moisture and water escape.
Guard rails on the porch provide a landing spot as well as help to prevent young ones from falling out. The white house and dark gray porches and roof are fade resistant so it will remain in stunning condition every year your feathery visitors return.
Birds Choice 3-Floor-12 Room Purple Martin House with Starling Resistant Holes 
Let's take it up a notch with this triple decker martin bird house. The 12 individual rooms let the birds have their own living space.
While purple martins love to socialize, they also enjoy their privacy at times. They'll love how each room opening is separated by a porch divider for a bit of added privacy. Each of the three stories has its own wrap-around porch with guard rail.
Instead of round entry holes, this house was made to be starling resistant and has half-circle openings. Made 100 percent from aluminum, it's designed to withstand heavy rains and winds.
Ventilation openings let air circulate and cool the interior during those hot summer days. The beveled edges are rounded so no worries about your feathered friends cutting themselves on any sharp edges.
The mounting pole isn't included, but the heavy duty base plate is. Some assembly is required so have your screwdriver and socket wrench ready.
This purple martin house is durable, efficient, and ready to move in.
See the latest price on Amazon here…
Birds Choice 4-Floor-16 Room Purple Martin House with Starling Resistant Holes 
For the ultimate nature lover, this is sure to bring all the birds to your yard. Boasting four floors and 16 individual rooms, this is one spacious purple martin bird house.
Similar in design and structure to the three-story version, you can add four more families with this deluxe vacation home.
Porch dividers separate each room to give the birds their privacy while maintaining their social life. Guard rails on all four floors offer a safe landing spot plus keeps the little ones in.
Extra ventilation openings keep the air flow moving without letting the rain in. Nesting can be done in safety and privacy without worrying that starlings, sparrows, or other feathered squatters will take over.
Fully made out of aluminum, it's weather resistant and can stand up to rain storms and heavy wind gusts.
It doesn't come assembled, but a screwdriver and a wrench will do the trick. The pole is sold separately, but once mounted, you'll enjoy watching the excitement begin when your summer guests arrive.
See the latest price on Amazon here…
Nature House Martin Safety System with Pole, 12 Room 
For the bird lover who wants the whole kit and caboodle, pay attention to this. This package includes a versatile, two-story, aluminum purple martin bird house with a 15-foot mounting pole included.
The martins will enjoy the comfortable 12 nesting rooms. But if you find the rooms are too small, they can be converted to six larger rooms.
The porches on each floor have a four-inch guard rail to keep the new babies from accidently wiggling out. Mom and Dad can rest on the ample perching spots including the guard rails plus the roof perch.
An included lanyard makes raising and lowering this amazing martin birdhouse much easier than you'd think.
Doors swing out for easy cleanup at the end of the season. Thanks to the subfloors, the nests are elevated 0.25 inches to provide a drainage system. Ventilation holes give added airflow without letting in other birds.
Some assembly is required, but once the setup is complete, those majestic musical birds will move in and make it all worthwhile.
Get the latest price on Amazon here…
If you add a martin bird house to your yard, they will come
Since purple martins return to the place where they were born, establishing a nesting colony is a great way to ensure you'll have repeat visitors every year. By offering a safe seasonal nesting spot to these quirky birds, you'll be voted the landlord of the year.
If you're thinking of starting small and enjoy the country motif, try the 16 Family Purple Martin Barn. It's cute and colorful design is efficient and attractive. It's less expensive, doesn't require assembly, and can become a summer condo for 16 families.
If you'd prefer to have everything in one complete package, the Nature House Martin Safety System with Pole, 12 Room is the perfect solution. A complete kit including a versatile purple martin birdhouse and mounting pole that's ready to turn your yard into a bird hotel.
By installing a martin bird house in your yard, you're providing a safe home for a beautiful family of birds while reducing the neighborhood insect population. Birdwatching doesn't get any better than that.
Need to keep squirrels away from the bird table? – this is virtually impossible but there are some preventative measures you can take to keep squirrels off the bird diner…
SaveSave