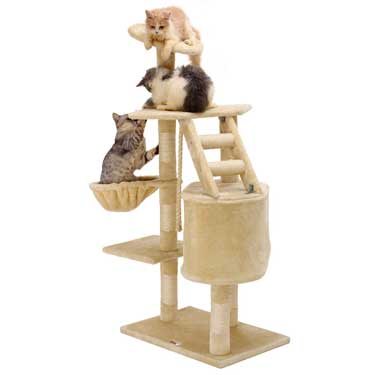 Finding the best cat trees for big cats isn't always easy. Big cats need big sleeping spaces, high places to perch, and wide ledges to lie on.
Large cats need quality cat trees that won't bend under their extra weight. Large cats come with large claws.
If your couch looks like it was destroyed by Cindy Clawford, it's time to redirect those scratching urges.
Lucky for you, we found five of the best cat trees that can face your titanic cat and survive.
Armarkat Cat tree Furniture Condo, 50 to 60-Inch 
Let your cat flex his claws and practice his climbing skills at the same time. Made of pressed wood and covered in faux fleece, he'll enjoy napping in the condo box that has two open doorways.
Four wide ledges are perfect spots to watch the world below. It's made of pet-friendly materials that don't contain hazardous chemicals. All four posts are wrapped with durable sisal rope that can withstand even the sharpest claws.
Under the sleeping box is a free-hanging piece of rope to encourage playtime. The wide base keeps it stable as heavy cats jump, bounce, and play on their new home.
Get the latest price on Amazon here…

Go Pet Club 72″ Cat Tree Condo Furniture – 
One of the Best Cat Trees For multiple Cats
Big cats deserve big toys. That's why they'll love this tree with two condo boxes and three perching ledges.
At six feet tall, your cat with have plenty of scratching areas. Multiple cats can share while having lots of space to lounge, nap, and play. Two flat ladders with built-in steps help senior cats get traction to climb while avoiding joint pain.
The compressed wood material is covered with a soft faux fur. All posts are wrapped in resilient sisal rope. The rope encourages appropriate scratching behavior while redirecting the cat away from the furniture.
A toy mouse hangs from an elastic band secured to one of the top ledges for extra fun.
See the latest price on Amazon here…
Go Pet Club Cat Tree Leopard Print – One of the Best Cat Trees For multiple Cats
Add a bit of pizazz to your feline's playtime with some truly cool cat condos. The leopard print design lets your cat frolic in the jungle like his ancestors.
Two sleeping rooms, three perches, two ladders, and multiple ledges bring playtime to a new level of happy. Four scratching posts wrapped tightly with white sisal rope resists shredding.
Velvety soft faux fur covers everything else, even the ladders. Elvis Catsley will be the master of his own jungle room cat tree. He'll love attacking the toy mouse dangling from below the upper condo.
The compressed wood construction, durable sisal rope covering, and soft material make living in this cat tree a dream come true.
See the latest price on Amazon here…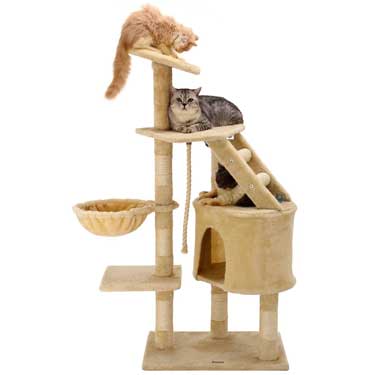 Ollieroo 48″ Cat Climbing Tree Tower Condo 
One of the best cat trees designed for cats under 15 pounds, it's inviting for adults without intimidating tiny kittens.
A sturdy base provides the platform for a condo, multiple ledges, a ladder, and a hammock. Numerous cats can play hide 'n seek, lounge in the hammock, or snooze in the condo.
A top ledge is tilted, making it easier for senior cats and kittens to climb up on it. Sisal rope wraps around the middle section of each post and both steps of the ladder. The more he scratches his posts, the safer your couch will be.
The rest is covered in soft plush fabric for comfortable relaxing. A thick sisal rope hangs near the condo – perfect for swatting, chewing, or chasing.
See the latest price on Amazon here…
Molly and Friends Pinnacle Cat Tree – 86 in. Made Made in the US 
Who needs stairs when you can climb on a pinnacle? Over seven feet tall, this could be the best cat tree ever. Your cat will have the time of his life as he climbs, hides, and dangles from the ledges of this vertical stronghold.
Rather than flat ledges, these curved ledges contour to the feline body while acting like steps on a staircase. Rolling, sleeping, and lounging are more comfortable activities. Two cat condos (one on top, one on bottom) give your cat a change in napping geography.
One post is partially bound in sisal rope while the rest of the tree is covered in soft carpet. It's rated as one of the best cat towers for its durable construction. The weighted base and sturdy pine poles prevent tipping and wobbling.
Handmade in the U.S, it's one of the highest quality cat trees on our list. And, it's the perfect gift for cats that enjoy surveying their territory from their very own watchtower.
See the latest price on Amazon here…
Best Cat Trees For Big Cats Your Whole Family Will Love
Animal lovers want quality cat trees. Durability, stability, and pet-friendly construction make the best cat trees that stand up to years of use. Cat trees for big cats don't have to be ugly atrocities that need to be hidden in the spare bedroom.
Two Quality Cat Trees that Caught Our Eye
If your cat enjoys heights, the Molly and Friends Pinnacle Cat Tree – 86 in. will put him on top of the world.  Handcrafted for feline comfort and a long life this is one of the best cat towers on the market and possibly the best cat tree brand.
Or maybe you're searching for something different for your Catzilla? Try the Go Pet Club Cat Tree Leopard Print. There's nothing your cat can't do when he moves in. Jump, scratch, perch, chase his buddies, or catnap.
Cat towers for large cats are just the ticket for monsterous moggies!
Like people, cats need a place to call his own. Safety, comfort, and a unique place to play will keep him occupied for hours. Pick one of the best cat trees for big cats that suit your family fur ball. Once he discovers his new place, he won't want to leave any of these cool cat condos.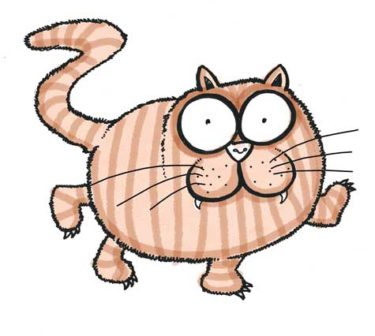 Want to get inside a cat's head and think like a cat?
We review 5 top rated cat behavoir books
SaveSave
SaveSave
SaveSave