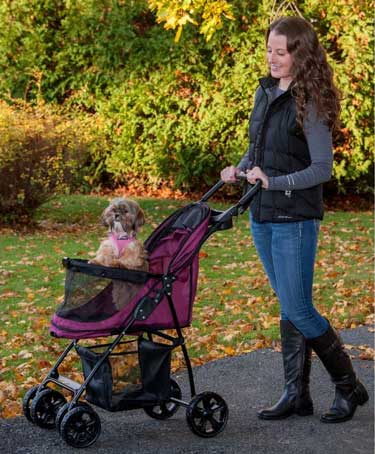 The best dog stroller is one that lets your dog experience the outdoors while being comfortable.
Dogs love to be outside, but sometimes that can't happen. That's when a doggy carriage comes in handy.
Puppies may be too small and scared to enjoy a walk down a busy street. Tiny dogs may not feel safe being in the wide open world.
A dog stroller for small dogs gives them a taste of the outside world without the anxiety. Larger dogs need help, too.
Disabilities, age, or disease can limit their outdoor activities. Luckily, there's a variety of sizes of doggy carriages ranging from teacups to mastiffs.
Instead of leaving your dog home, you'll have the option to take him with you.
With the right dog stroller, your pet can enjoy life no matter what their limitation.
DoggyRide Novel Dog Stroller – Best Dog Stroller for Larger Dogs
Stroll through the neighborhood in style with this spacious three-wheeler all terrain dog stroller.
There's plenty of room for dogs like Labrador retrievers and border collies (up to 110 pounds) to get comfy. Or take multiple small dogs at once.
They can watch the world through the vented mesh windows. The front flap opens to give them an unobstructed view of their surroundings as you wheel through town.
The aluminum alloy frame is strong yet lightweight. Reflective striping keeps you visible during evening strolls.
The padded front headrest is great for naptime. Store snacks and bottled water in the rear pouch. If you're caught in the rain, the zip-on side and front window rain screens keep the interior dry.
It converts to a jogger-stroller so you can run with your pet instead of leaving him home. Hook it to the back of your bike, and let your dog feel the wind in his hair again.
One of the best dog strollers for larger pets, it'll let them cherish being with you in the great outdoors again.
BestPet Pet Stroller for Cat or Dog – 3 Wheeler Doggie Buggie
Smaller dogs will love this home on three wheels.
Elderly pets may not be able to keep up or tire much easier on walks. With this doggy carriage, he'll fit nicely into the cabin.
The front, rear, and side mesh windows keep the bugs out while providing a clear view of the surroundings.
Store snacks, waste bags, and water in the underneath compartment. Two cup holders by the handle can hold a drink, snacks, or car keys. An included water-resistant rain cover keeps the rain out.
The wheels are small and made for sidewalks and smooth surfaces. It's an ideal solution for easing the pain of walking for an injured dog.
You can also use to transport your cat to the vet rather than stuffing him into a bulky carrier.
Pet Gear No-Zip Happy Trails Lite Best Dog Stroller
The adjustable weather-resistant canopy on this dog stroller for small dogs will make them think they're king of the world!
Your little buddy will love the panoramic view from the large front mesh window.
The front mesh window provides easy access to your dog with a durable Velcro strip secured with a plastic clamp. No zippers to get stuck in their hair.
They can use the elevated paw rest to stand or rest their heads. The interior lining is removable and washable.
Four plastic wheels with front shock absorbers make for a smooth ride.
Use the parent tray and cup holders for water bottles, harnesses, and snacks. Keep your purse in the under-carriage bin.
Dogs 35 pounds or less will love cruising around in one of the best dog strollers in town.
AT3 Generation 2 All Terrain Pet Stroller
Exercise lovers pay attention!
This all terrain dog stroller gives you all the exercise you need while having your canine companion at your side.
Pets up to 60 pounds fit right in as you push, jog, and hike with this three-wheeled doggy carriage.
The front zips open for easy loading and unloading of your pet.
The front mesh window reaches from side to side for a great view of your adventure.
Keep all your necessities in the oversized storage compartment underneath or the parent tray up top.
The removable interior fleece pad is washable. The plastic wheels are large for handling dirt paths, sidewalks, and bumpy trails.
Rear shock absorbers make the ride easy on arthritic or injured dogs.
A quick-lock foot brake keeps the stroller in place when you stop. Attach your dog's leash to the interior clip to stop him from darting out of the cabin.
For dogs who were once active, they can once again enjoy exercising with you.
 Outward Hound Walk N Roll Pet Stroller
For a sleek modern look, give this dog stroller for small dogs a whirl. Chihuahuas and MinPins can stretch out in style.
The cozy cabin is ventilated on the front and both sides with mesh windows.
Although it's not a pet stroller with detachable carrier, the top zips fully open for quick access to your dog or cat.
The adjustable canopy above boasts a sunroof so you can keep an eye on your little guy.
Added comfort helps for a smoother ride with a removable padded bottom. Throw it in the wash in case of an accident.
Perfect for sidewalks and smooth flooring, your dog will enjoy being whisked around in this adorable contraption.
Get the best dog stroller for your pet to enjoy life again
Age and illness can be counteracted when you get the best dog stroller available for your pet. If they can't run and play anymore, give them the next best thing.
If you need a dog stroller for small dogs, cats, or even your pet ferret, try the Outward Hound Walk N Roll Pet Stroller Your little friends will love to say hello to the world as they glide down the street.
The DoggyRide Novel Dog Stroller is excellent for larger dogs who need more of an all terrain dog stroller.
Hit your favorite running path, or pull it behind your bike as your dog enjoys the outdoor life with you. The best dog strollers are those that make you and your pet happy. Choose the one that will make living life fun again.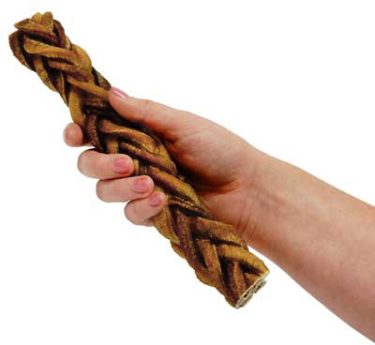 Want to see a dazzling smile on your dogs face?
Give them dog treats that keep their canine canines clean and healthy!
See the review of 5 top rated dog chew brands here…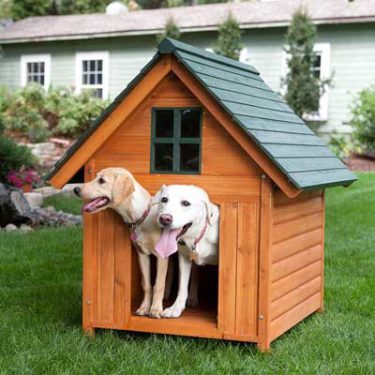 Is your pooch in the Dog House?
We review 5 top rated dog houses to keep your four legged friend warm and cosy.  
SaveSave